WAITOMO BIG BIRD B&B & PETTING FARM
We warmly welcome you to share "Our World". A relaxing and peaceful B&B with Kiwi "Homespun" Hospitality!
A giant 4.3m fibreglass Moa Mascot also welcomes you. These extinct birds walked here until 1450 AD when New Zealand was known as Moaland! They belonged to the Ratite family which includes the Kiwi, Ostrich, Emu, Rhea and Cassowary. Their eggs were equivalent to 100 chicken eggs or 4 Ostrich eggs.
We have Ostrich, Emu, Giant Moa Mascot and 50+ miniature rare-breed animals plus cattle grazing on 70 acres of green picturesque pastoral views. Much Moa than just a B&B! A "Pet Paradise" for animal-lovers, ideal introduction to animals for children being so friendly – they are our "outside family"!
Accommodation

Looking for a great place to stay? Let us make your stay in Waitomo a unique and memorable experience.
Drive in and check us out. You're welcome to "Rest in our Nest".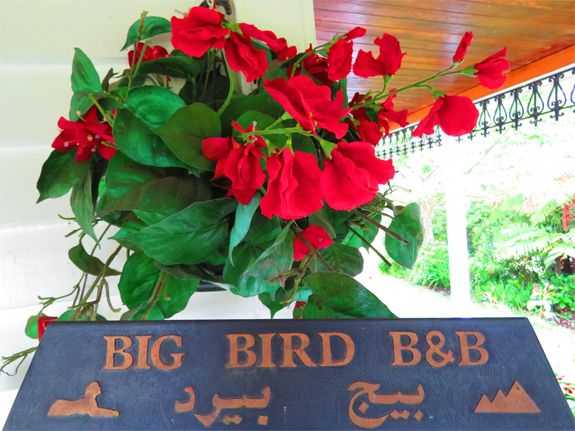 About Us
Ann and Ross Barnes are both 4th generation New Zealanders with 40+ years of tourism experience in the Waitomo area. Ross was a Park Ranger with Dept of Conservation for 20 years and built many local well-known walking tracks and has extensive knowledge of the region's history, culture, plants, birds and insects. Ross was a guide at the Waitomo Caves for 8 years and recently developed the Footwhistle Glow-worm Cave for Caveworld – an evening "must-see" for guests! See us for a 10% discount.
Our guests are fascinated with the intrigue of the Ostrich and Emu and the "Magical Moments" they enjoy with their cameras "Making Memories" with the Miniatures! Education and interest for adults and children alike.
Child-minding/babysitting is available while parents enjoy adventure activities (blackwater rafting, etc). $10 p/hour 1 child, $15 p/hour 2 children.
Common Comments
So glad we found this place... our stay was the highlight of our trip – from the flirting of the Big Bird, to the magic of the mini-animals, then the awesome glow-worms at Footwhistle – my world is new!!
My girls were in "heaven" with the animals.
The kids just loved the place!
A truely authentic farmstay... a real Home away from Home!
New Zealand is a better place because of you... Thank you.
Loved the homemade bread and Ostrich omelette.
Probably the best night's sleep we have had on our trip.